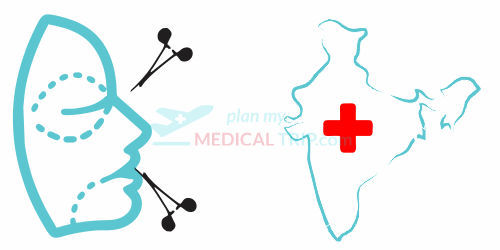 Cosmetic Surgery in India
Why Is Cosmetic Surgery in India Famous?
Cosmetic surgery is a growing market in India's medical sector. The value of this market according industry experts is USD 25 million and it is growing exponentially. Every year, this sector is said to grow by 20-30%. A lot of foreigners prefer getting treated in India due to the lower costs of several types of treatment.
Market Size
Some of the most famous treatments in India include rhinoplasty; chin, lip, or breast augmentation; dental cosmetic surgery; and hair removal via electrolysis. The capital for cosmetic surgery in India is said to be the city of Mumbai. It is said that plastic surgeons in the city can manipulate several parts of the body through approximately 175-odd invasive and non-invasive procedures.
Cosmetic surgery in Mumbai is more famous because it is the home of Bollywood-India's biggest film industry. Naturally, since it is the country's entertainment capital, 50-60% of cosmetic surgery tourists come here every year
Dental cosmetology is also a highly penetrative market. This is again due to the competitive costs offered by dentists in India who are at most times also more qualified than dentists abroad.
There are over 50 types of specializations in this industry and there are ample experienced doctors and surgeons available in India. Thus, the supply of talented and experienced manpower in India is never a problem.
Cosmetic Surgery in India Costs
Full mouth rehabilitation with bridgework, crowns, and laminates costs 6.5 lakhs; the same procedure costs roughly 20 lakhs outside India. Similarly, a tummy tuck costs about Rs 20 lakhs in western developed countries, but only Rs 2 lakh in India. Breast augmentation will cost you around 2 lakhs less, while rhinoplasty usually starts from Rs 1 lakh. Botox shots also costs way cheaper in India, the reason behind their popularity. Cosmetic surgery packages in India are thus more affordable than their counterparts in western developed countries.
Scope
Cosmetic surgeries are needed by many people. Dental cosmetic reconstruction also comes under cosmetic surgery so does scar revision after birth. Similarly, other skin scars and reconstruction also come under this sector.
Why Choose PlanMyMedicalTrip.com?
PlanMyMedicalTrip.com is different from other players in the market because we are not limited by our offering in terms of numbers. We are not limited by a facility, which ensures quicker appointments and several options bifurcated by cost and geography. Apart from these factors, we offer free medical consultation which ensures that the patient is well-aware of what lies ahead while traveling to India. Also, we offer a complete package that includes hotel accommodation for rehabilitation, travel options, visa assistance, foreign exchange, etc.
Medical Tourism in India
India is one of the best countries in to get treated primarily because its offerings are cheaper than abroad packages. Cosmetic surgeries in Pune and Delhi, other important cities in India are also gaining recognition after Mumbai because of highly skilled doctors and facilities. There is a huge market that is still unexplored, which in the end results in lower cost of treatment of foreign patients.
Shall you wish you opt for free medical consultation, please feel free to write to us at info@planmymedicaltrip.com. Our experts will get back to you.